The other day I read about
The Sweet Tooth Fairy
on NieNie's blog. And the cupcakes looked amazing. In the pursuit of free KFC that night we ended up in that part of Provo and when I saw the KFC line I decided that cupcakes for dinner would be a better option. So I told Jeremy that I was pretty sure the awesome cupcake place was across the street. And it was! I have cupcake radar.
I've always said that cupcakes are not as fun and fantastic as the name implies. And up until Wednesday night, they hadn't been. They were always crumbly or too dry and the frosting is never as good as it is on a regular cake (even though it's the same frosting). But now, cupcakes are all I can think about!
Peanut Butter Chocolate cupcakes--AMAZING!
Va-NIE-lla Squared cupcakes--they named them for NieNie after she had one and said on her blog that they should name them that since she was single-handedly going to keep those cupcakes going
Nie now has a partner. Those cupcakes were love at first bite. I've never tasted such amazing frosting and such moist cake. It was like fireworks and drunkenness and orchestra AND mardi-gras music in my mouth--all at the same time.
So, if you live anywhere near Utah, it's worth the trip.
Booked our 5 day Disneyland vacation! Woohoo! We're going over Labor Day (and past Labor Day when Jeremy
should
be in school but is skipping because other people will be in school and hopefully Disneyland won't be
too
busy--but if it is, that's okay) and we're staying IN DISNEYLAND!! YES! Paradise Pier Hotel (so,
technically
, in California Adventure, but hey, all the hotels are accessed from Downtown Disney (a.k.a. Heaven) so it's all the same to me. I cannot wait. And the new goal is to lose 30 lbs by the time we leave. The journey starts tomorrow. Glad I made a
calendar to keep track of my exercise progress
.
This will be the third time we've gone to Disneyland in as many years of marriage. We're definitely setting up a good precedent here. Each time we've gone to Disneyland I have come home and cut my hair off. Hopefully by the time we go my hair will be long again and I
won't
cut it when I get back. Don't let me cut it.
Also, if you're on Facebook, both my grandfather and I have fan pages! Just started his yesterday! Please visit and become a fan to receive exclusive updates, secret sales, and giveaways for Facebook fans!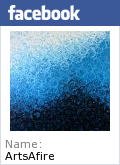 Also, I have a new
Flickr photostream
and will be starting one for ArtByJay this weekend. I really don't know what's going on over there, so any advice would be greatly appreciated. It appears that friends can be added at Flickr. If you're on there,
add me please!